Derek Acorah's Ghost Towns
In each episode, acclaimed medium Derek and his sidekicks visit a different spooked town in the UK to unearth supernatural mysteries.
·
A
·
·
B
·
·
C
·
·
D
·
F
Grade This Show
Your Grade:
Click to Regrade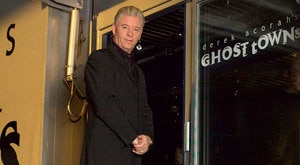 Faversham, a rural village in Kent, is known for its picturesque market square and traditional brewery. But some say it hides a much darker side. Residents report malevolent spirits, dark forces and witchcraft. Derek and the team visit The Shipwright Arms pub where a story abounds that the captain of an old Dutch barge froze to death in a sickly state at the pub door. Is hi...
Episode length: 34:20 | 2005